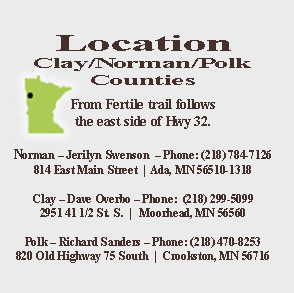 Welcome to the Agassiz Recreational Trail!
The Agassiz Recreational Trail welcomes you to their web-site and thanks you for stopping by.
This abandoned railroad grade, now a multi-use trail, runs between Ulen, MN on the south and Fertile on the north, paralleling State Highway 32. The trail passes through the cities of Ulen, Gary, Twin Valley, and Fertile which provide support facilites to all trail users including mountain bikers and equestiran users.
Please ride appropriately. There are some very impressive river crossings. The bridges are installed making the trail accessible and user friendly.
Explore the possiblities as you set forth on an adventure! Find information on our current trail conditions. Check out what each city has to offer - including Fertile, Gary, Crookston, Ulen, and Twin Valley.